【Seasonal Limited Offer】FX Trade Rebates Promotion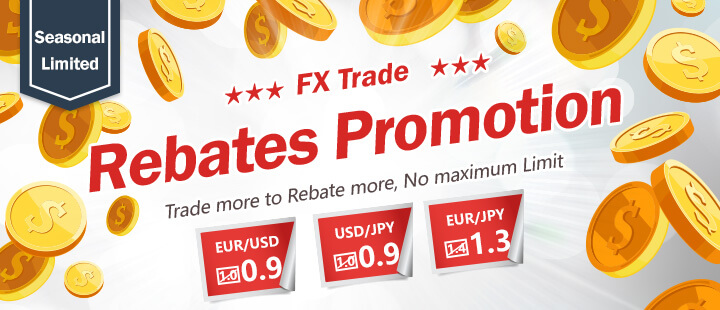 Promotion is over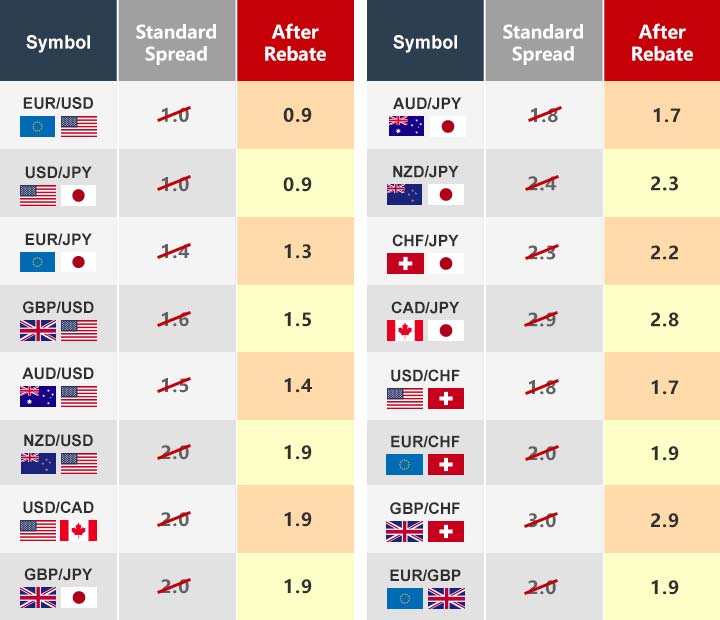 20th March, 2018 ~ 30th June, 2018

New or Existing Clients have to make a new deposit of HK$50,000 or more during promotion period.
Monthly trading target and rebate amount:
Fufill monthly target of 300 lots Per-side Trade in order to obtain 0.05 spread rebate per lot on all trading in that corresponding month.
Example:

Ray deposits HKD 70,000 on 26 Mar 2018. During the month of March (prior to and after he makes the deposit) he trades a total of 1,200 lots EUR/USD and 800 lots USD/CHF Per-side, for a total of 2,000 lots of Per-side trading. At the beginning of April, Ray can receive rebate, calculated based on all his trades in March. He is eligible because he has fulfill a) the deposit requirement and b) the monthly target trading requirement.

The total rebate amount in HKD will be:

(1,200 lots EUR/USD) x (0.05 pip per lot) x (7.81 HKD per USD)
+ (800 lots USD/CHF) x (0.05 pip per lot) x (8.28 HKD per CHF)
= 468.6 + 331.2
= 799.80 HKD
* Double Offers here for New Accounts!

Terms and Conditions
Eligibility & Promotion Period

【1】The promotion is valid from 20th March to 30th June, 2018, both dates inclusive ("the Promotion Period").

【2】To be eligible for the "【Seasonal Limited Offer】FX Trade Rebates Promotion", clients must fulfill all of the following requirements:

a. Client is required to hold a real account with Z.com Forex Forex during the Promotion Period; and
b. Client is required to make a new deposit of HK$50,000 or more during the Promotion Period; and
c. Client is required to trade forex lots using the real account during the Promotion Period; and

Promotion Details

【3】 Requirements and Calculation of the Rebate :

a. Client has to fulfill all the requirements listed in Clause 2 and reach the Monthly Trading Target (i.e 300 lots of Per-side Trade) in any month within the Promotion Period, in order to be entitled to receive 0.05 spread rebate per trade for trades in the corresponding month.
b. Trading lots will be calculated month by month and will not be accumulated or carried forward to other months. Month(s) refers to Calendar Month.Orders that placed before Promotion Period are not eligible transaction for this promotion. (*Except for March, orders executed on 1st Mar - 19th Mar will be regarded as eligible trades and all trading lots during 1st Mar - 31st Mar shall receive rebates)
c. Calucation of rebate amount: Trading lots in particular calendar month x 0.05 pip x the exchange rate on the last trading day of the corresponding month.
d. Client is not entitled to any rebate if the client could not satisfy the deposit requirement or fails to reach the Monthly Trading Target.
e. Each month's rebate will be credited to Client's account on or before the 5th business day of the next month.
f. There is no maximum limit on rebate amount.

Others

【4】 Rewards are not transferrable.

【5】Z.com Forex Forex reserves the right, at our sole discretion, to change these Terms and Conditions and/or modify, discontinue or terminate this Promotion at any time without prior notice. In the event of any dispute, the decision of Z.com Forex Forex shall be final and conclusive.

【6】In the event of discrepancy between the English and Chinese versions, the English version shall prevail.