Develop trading strategies with our powerful charting tool
Free advanced charting tool with comprehensive features, easily operated and design savvy. Supported with powerful suite of easy-to-use features to help you make informed decisions.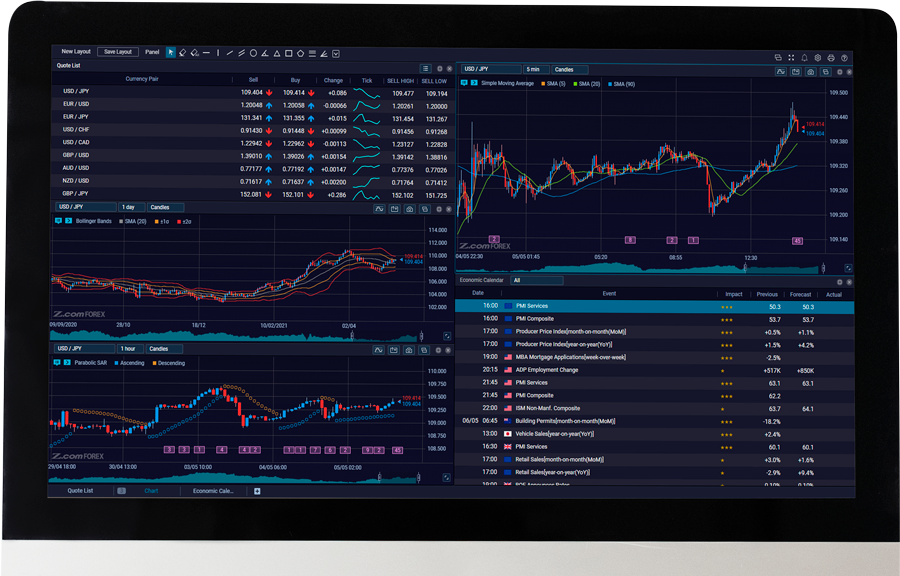 Supports a variety of analytical tools
Comprehensively equipped with 37 popular indicators including Simple Moving Average (SMA) , Exponential Moving Average (EMA) , RSI, RCI, MACD, Bollinger Bands, Ichimoku Kinko Hyo, Stochastic, Average Chart and more, to suit your needs.
For more details on each indicator, click on the link below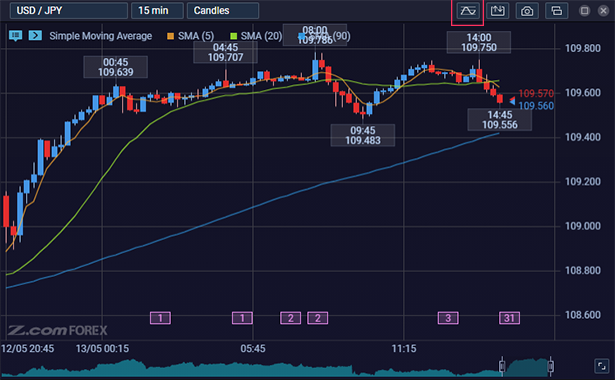 Display up to 16 charts
Regardless of currency pair type, you may view up to 16 charts on a single screen. You can easily interpret and track market trends with our in-built technical analysis and multiple charts display features.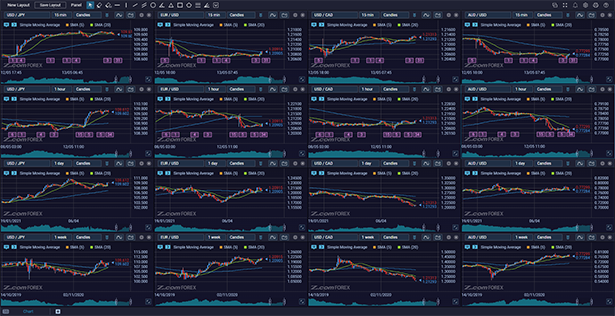 News Effects
A click on the news flag displays the details of news or announcements, helping you evaluate the impact of market events on rate fluctuation.
To view news detail, press the numeric button on the screen.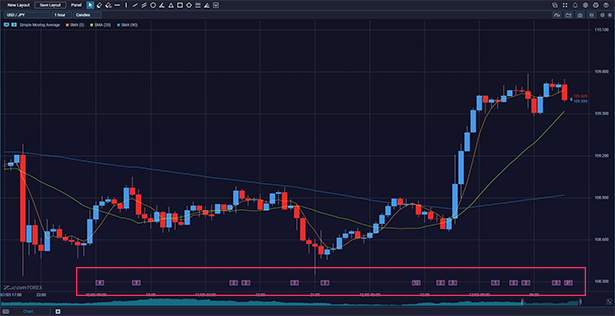 26 Drawing Tools
Assist intensively your technical analysis with a wide range of drawing objects such as Horizontal Line, Trend Line, Gann Line, Fibonacci Line.
Click the below link to view the list of drawing objects provided by SUPER CHART.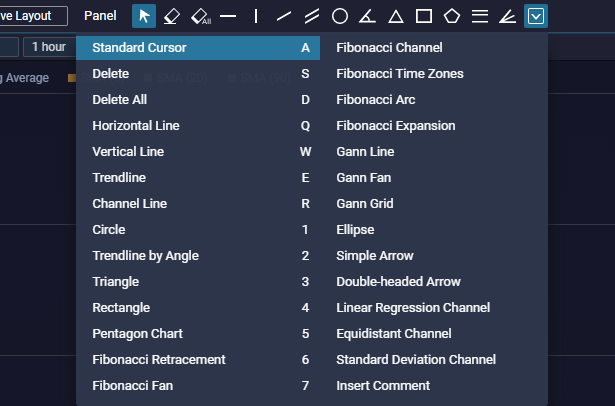 Terms of Use
Available for FREE to all customers who holds an account with Z.com Forex.
IMPORTANT TO KNOW
The rates shown in SUPER CHART were Z.com Forex tradable rates quoted at the time. Rates provided prior to Z.com Forex's service launch were indicative and served as referential rates only. Z.com Forex has taken reasonable measures to ensure the accuracy of such information made available to you through SUPER CHART but does not guarantee its accuracy, and will not be responsible for any loss or damage, including without limitation to, any loss of profit, which may arise directly or indirectly from use of or reliance on such information.
SUPER CHART is not an inducement or solicitation to trade leveraged foreign exchange.All investment following the information provided through SUPER CHART are taken at your own discretion for your own account. Any unauthorized duplication, reproduction, transfer, sale, publication, distribution, retransmit, dissemination, broadcasting, circulation, or commercial exploitation of the information and contents on SUPER CHART without the express written consent from Z.com Forex is strictly prohibited.
Supported System Requirements
OS
Web Browser
Memory
Screen Resolution
Windows 8.1
Internet Explorer 11 (desktop mode only)
Microsoft Edge (desktop mode only)
Firefox
Google Chrome
1GB or more
XGA (1280x768) or higher, 32 bit colours or higher
Windows 10
Internet Explorer 11 (desktop mode only)
Microsoft Edge (desktop mode only)
Firefox
Google Chrome
Mac OS 10.13 or later
Firefox
Google Chrome
2GB or more
Important:
Subject to your network availability, computer or other factors, you may not be able to fully utilise our services even if you have satisfied the above system requirements.
Supporting system requirements are subject to change without prior notice.
Version Updates
Version 2.0.0 (Released on 5 December 2020)
Subject
Content
Version Upgrade
Upgraded from Flash version to HTML5 version.
Enhanced chart functions.
+ View the list of previous versions
Version 1.1.0 (Released on 28 June 2014)
Subject
Content
Change of tradable currency pairs
Change of currency pairs
1) 10 currency pairs added
GBP/JPY, AUD/JPY, NZD/JPY, CAD/JPY, CHF/JPY, USD/CHF, EUR/CHF, GBP/CHF, USD/CAD, EUR/GBP
2) 2 currency pairs removed
HKD/JPY, USD/HKD
Addition of countries to the Economic Calendar
China, Canada and Switzerland are added.
Other enhancements
1) Change of company name (in Traditional Chinese and Simplified Chinese)
2) Updated term in Simplified Chinese from "日圓" to "日元"
Version 1.0.0 (Released on 20 August 2012)

| Subject | Content |
| --- | --- |
| Launching SUPER CHART | SUPER CHART has been launched |
Please note that images shown in this page may be different from the actual screen image.